linked with Shell. Please be respectful.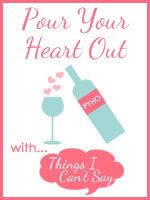 Yesterday I did a no-no. I argued with Andrew (hubby) in front of Leah (oldest daughter -- she's 3).
I lost my patience.
I got frustrated.
I got mad.
I made Leah sad.
I misplaced my phone charger. I moved it to a different location and misplaced it. Andrew got frustrated that I couldn't find it and wanted to set an alarm on his phone, but he didn't know if he was taking his phone with him to bed and I really should know where my charger is so I can plug it up and I should suck it up and look for it instead of using his phone.
(sounds kinda dumb now)
I felt as if he was talking down to me, talking to me like I was a child and stupid and not as good as him.
(note -- I included the powerful word felt ).
I hate being talked down to; like I'm lower than another person, and I lost my patience rather quickly. I got mad that I couldn't just use his alarm. I got mad that he wouldn't help me look for it. I got mad that he accused me of messing up every cell phone that I own. (no, I did not make my last few phones stop working). I got mad that I felt like he was acting like an ass. And I told him that.
And Leah sat on the couch. And Leah told me I was going to make her cry.
I stopped getting mad. I sat down next to her.
She asked me to apologize to Daddy. I didn't. I apologized to her for yelling in front of her, and for a moment she became the 25 year old, and I became the 3 year old.
I don't want to act that way in front of my daughter. I don't want for her to think of this as a way a wife acts towards her husband. I don't want to treat my husband that way. I don't want him to treat me that way either.
I messed up.
I lost my temper.
I made a mistake in front of my daughter.
I feel bad