It has been a really long time since I have participated in a blog party, so I can not think of a better way to bring in Spring, than to party!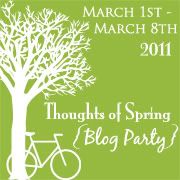 My name is Christy, and this is my little space in the world wide web.
I'm also entering this self potrait into Pastor Girls' Ponderings challenge because I'm a multi-tasker like that.
What is your comfort food/drink?
Chocolate. Chocolate bars. Chocolate ice cream. Chocolate chip muffins. Pretty much will eat anything covered in chocolate when I'm in need of comfort. Recently I've been comforted by Symphony Almond Toffee bars.

Tell us something very random and weird about yourself.
I wish Ska music would come back in style. I guess that's not that random if you were in the lab listening to Five Iron Frenzy with me. uhhhh ... I also chew ice; like I'll get a cup of just ice and chew it. I've done it since I was a kid. Yeah, yeah, I know one day I'll have a mouth full of broken teeth, but maybe I can think of if as I am making them stronger ...
Do you have a strong desire to do something you've never done? What is it?
I want to get a tattoo. But I don't want it to hurt. Yeah, I don't think that's possible either, but one day I'm going to get a tattoo. I want it on the underside of my wrist, and I want a cross and where the connecting lines would be I want the words 'faith, hope, love, grace'. I'll just have to show you one day ;-)
Strange Talent? Can you juggle basketballs, put your legs behind your head or perform some other strange feat?
I can wiggle my ears. See ... wiggle wiggle. Oh and even better I can wiggle them one at a time. Wiggle left; wiggle right. The best part of being able to wiggle your ears is showing someone and then watching them contort their face as they try to wiggle their ears too. I bet you just did that, huh.
What are your favorite animals?
Cats. I am totally a cat person.
This is our cat Tank. I would imagine he would say, "What? I can sit with my legs wide open if I wanna. I'm a dude. I don't have to be all proper and ladylike."
What is one of your favorite things to catch a whiff of?
Lavender. It's my favorite scent. Least favorite is cigarette smoke and I'm only saying this because it just walked by me.
If you inherited a million dollars, what is the first thing you would do with your money?
A big t.v. for Andrew and a DSLR camera with a couple of lenses for me. And then I guess I'd be all responsible and pay off debt and set up money for the kids college and stuff like that ...
Are you a hopeless romantic?
Only after I've watched a Romantic Comedy movie. Then I look at the world through 'happily ever glasses' for a bit.
What is your greatest accomplishment?
My girls. Corny and cliche ... yeah ... but oh so true!