Saturday Centus is a super fun writing prompt from Jenny. The story is 100 words not including the prompt which is in bold. Follow the link to visit more amazing stories. Happy day after Christmas to everyone ... the story of my first White Christmas will be coming soon!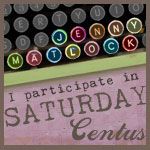 As the lights dimmed in the small church I felt relief wash over me realizing that I survived my first Christmas Eve service.
Then
the white-bearded fat man rolled through the church doors.
From afar he reminded me of Santa, but the alcohol seeping through his clothes contradicted that image.
He stumbled towards me, "I have seen the light. I want to meet this Jesus."
Even though his clothes were ragged, his hair unwashed, and I didn't quite think he was sober; I couldn't turn down a child of God.
"I would love to share my beliefs. We also have some great coffee."